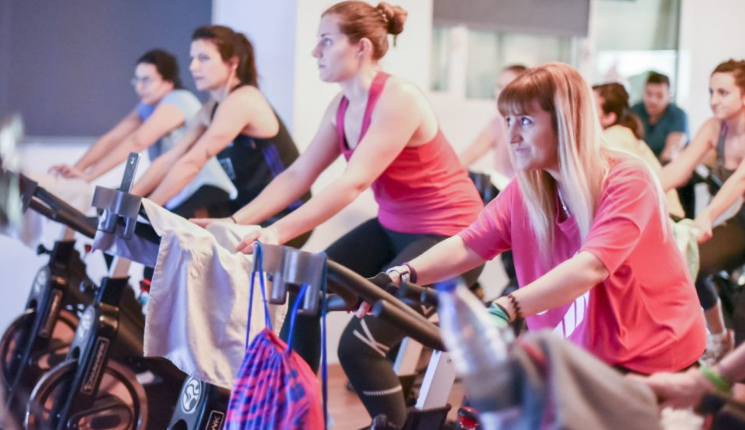 Would you like to try a GBike class but you're scared? Do you think you will not be able to do it? Out fears. Here we explain everything you need to face this new challenge successfully.
The first thing we have to keep in mind is that if you are starting in this activity you have to be patient, not everyone has an adequate physical capacity to complete a class following the GENIUS 100% and that's not why you're not going to get, you have to be realistic and go little by little to avoid injuries, we must try to follow the cadence (rhythm of the pedaling of the GENIUS) and if at some point we see that we can not, without problem, we slow down, recover pulse and return to class.
It will take us only one month, being constant, complete a class correctly.
Let's start by having a correct placement of the bike, essential to give the maximum and avoid injuries:
The saddle should be placed at the level of the iliac crest (where the hip bone ends) as we can see in the image above.
The proximity of the saddle to the handlebar should be the same distance from your forearm plus the hand and two or three fingers.
The handlebar at the same height as the saddle and in cases where we have lumbar pain raise it a little more than this measure.
Once our work tool is regulated we have to know that there are two ways to work:
Sitting, the grip of the handlebar is on the bar
Standing, the placement of the hands goes on the parallel bars, you can hold more forward as in the photo or further back.
We always have to do a pedaling with a minimum load, but the wheel of the bike that weighs a lot is the one that pulls on our leg and leads to a knee injury.
We must have a good hydration, even if we are not thirsty we must drink from time to time, because when the body asks for water it is when we are already in a dehydration phase and then a good drink of water can make us feel bad if it comes next a peak of intensity that only GENIUS knows.
A GENIUS of AltaFit will value safety first and foremost, that is why we take certain necessary measures so that our clients can carry out GBIKE and after two months have no knee injury.
I invite everyone to try this activity we release a lot of adrenaline, we leave the problems out and we only think at the moment, which is the most important thing in directed classes.