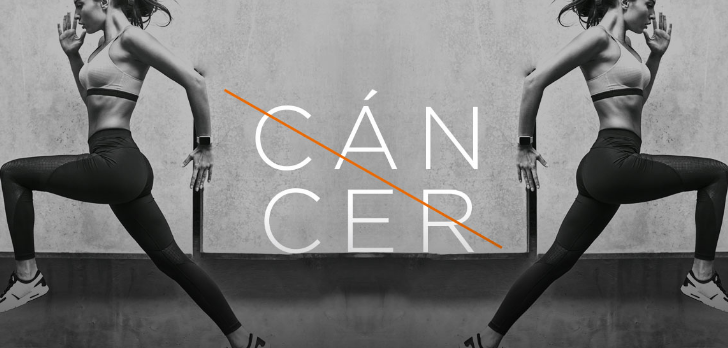 It is estimated that about 70% of heart diseases, stroke, and type 2 diabetes, as well as 30% of cancers, are preventable.
One aspect that motivates the formulation of control actions is the possibility that chronic diseases have to be prevented: it is estimated that about 70% of heart diseases, stroke, and type 2 diabetes, as well as 30% of the cancers, are preventable. According to the WHO (World Health Organization), there are 11 million new cases of cancer every year, about 80% occur in developing countries because of the living conditions they offer, like ours.
7.6 million deaths from cancer each year, in particular, we fix attention on the most frequent in women; In the last year, a total of 580,000 women died worldwide from breast cancer; 2,500 of them in Colombia. Every 30 seconds somewhere in the world a woman dies from breast cancer, 78% of those affected in Colombia are still alive 5 years after being diagnosed 80% of the patients do not have risk factors, but the negative association of the overweight as well as the favorable impact of physical exercise.
In Colombia 32,316 cases in men and 38,751 in women. The incidence rate, that is, the probability of cancer cases is 186.6 and 196.6 per 100,000 inhabitants respectively. Among men, the main cancer sites were in decreasing order: prostate, stomach, lung, colon, rectum and non-Hodgkin lymphomas. As for women, the two most common cancers are breast and cervical, more deadly and although the lung is in third place in the male case and is not very present in the female population, it is one of the that more deaths occur in the world dying a patient every second for this lethal disease.
According to WHO, 70% of deaths occurred in low- and middle-income countries. 33,450 people died from cancer in Colombia, 16.9% of national deaths in a country in conflict; 16,381 male deaths and 17,069 female deaths. Of 100,000 men and 100,000 women, 72.9% and 74.1% die respectively. That is, cancer is more common in women, but in men, there is more mortality
Socially there are differences and inequalities in the behavior of cancer, for example, the cervix affects mainly the most remote and poor populations, as well as women of the subsidized regime; in turn, almost 50% of deaths from breast cancer correspond to women in the contributory regime. This implies differential loads in the years of potential life lost between regimens for these two cancers.
What to do with one of the most relevant risk factors? Overweight and physical inactivity.
Multiple studies have been conducted in cancer patients seeking to improve survival; Physical exercise has become a viable option for both improving quality and survival. The patients who practice it since the diagnosis; and they start it from the first day of chemotherapy, have a better quality of life, better response to treatment, less spread of the disease and greater survival.
For example, in breast cancer, the EBBA – II Trial recently demonstrated a positive effect of exercise on cardiac function during adjuvant treatment in early breast cancer. And the SUCCESS C study that evaluated the intervention and the positive effect on disease-free survival for patients with early breast cancer.
A meta-analysis showed that exercise after breast cancer diagnosis was associated with a 34% lower risk of deaths associated with the disease, a 41% lower risk of all-cause mortality, and a 24% lower risk of cancer recurrence. mom.
Taking into account that cancer develops in any part of the body. It begins when the cells grow uncontrollably surpassing normal cells, which makes it difficult for the body to function the way it should be; generating places where there is little oxygen, known as hypoxia, also forming new abnormal blood vessels, a process known as angiogenesis, which serves for nutrition and dead areas called necrosis. When these processes increase, they generate mechanisms of resistance to drugs used in chemotherapy and increase the ability to spread known as metastasis, as well as increasing the symptoms associated with the disease.
Exercise helps preserve blood flow in the collapsed vessels of the tumor, increasing the supply of oxygen and reducing hypoxia; at the same time secretes substances known as myokines and nitric oxide, in the peripheral circulation, which lead to the reduction of angiogenesis.
This phenotype can also recruit tumor inhibiting factors, which leads to it being less aggressive, decreasing the invasion and the ability to generate metastasis.
During treatment, physical exercise mitigates the side effects of the medication and the disease as such, as well as helping to relieve pain. Aerobic exercise has proven to be useful in counteracting extreme fatigue, while strength training helps avoid muscle loss, which is directly proportional to the patient's ability to tolerate chemotherapy, increasing their survival.
The WHO recommends at least the practice of 150 minutes of physical activity a week to begin to feel its effects, physical exercise has been shown to be key in the prevention of different diseases, and cancer is not the exception, the impact It is such that there has been a reduction in the risk of developing up to 13 types of cancer, among which are the lung, stomach, colorectal, bladder and breast is the most common among women.Physical exercise minimizes the incidence of the toxic triad of cancer: obesity, low physical condition, and inactivity, relevant as risk factors to develop this disease.
Aerobic exercise is continuous and prolonged, within which we find activities with or without impact, determined by the level of control that you have, for example, activities with impact are made in poorly controlled environments, such as running or jogging free, ride an outdoor bicycle, choreography or dances; while activities without impact are carried out in controlled environments, such as static bicycle, treadmill, swimming, elliptical. Within the exercise of strength, we find two large groups, self-loading where we use our own body weight and external load, where we use elements such as bands and elastic tubes, weights, etc.
It is to connote that this type of oncological physical exercise in patients with chemotherapy must be carried out by personnel trained for that purpose, under the supervision of a multidisciplinary working group, sportsman, physical rehabilitation and nutrition, among others, it is necessary to know very well the clinical history, type of tumor, disease status, treatment received, side effects of the medications used, and in case of metastatic disease, type of them and their functional status, particularizing the attention in bone disease.
To date, cancer must be seen as a chronic disease and in this way all treatments are directed, in fact, a metastatic disease; that is to say when the cancer is in other organs different from the one of the origin, tends to be seen like a chronic condition and not like an imminence of death.
In this way on this international cancer day, we are called to create awareness and education by reducing the prevalence of modifiable risk factors. And our health system should reduce avoidable deaths from cancer by improving early detection and quality of care, in order to improve the quality of life of patients and survivors of this disease; that every day increases its prevalence regardless of social conditions, or any type of beliefs, where each person is a world at the time of the affection of the disease and its consequences. Not all bodies respond in the same way, the disease can not feel weak. Cancer does not understand pauses going for you, you do not have to give in, or at the worst of times, live active, Doing physical exercise and having a positive attitude with a good group of specialists would be the key to success; Always attitude, attitude is our personal invitation.