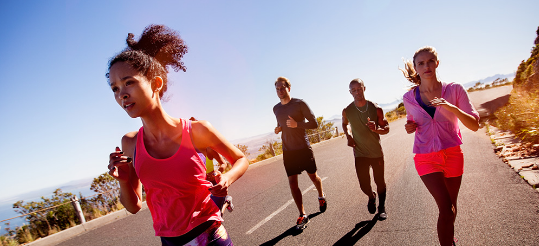 Physical activity is any bodily movement from the skeletal muscles that requires energy expenditure. It has been analyzed that physical inactivity is the fourth risk factor in terms of global mortality (6% of deaths recorded worldwide).
"Chronic diseases are acquired by bad eating habits and physical, it is important to achieve a balance between these two variables to improve the quality of life of people," said Raul Baquero, sports physician Bodytech.
The WHO notes that 25 percent of breast and colon cancers in the world are the result of physical inactivity as the main cause; In addition, 27 percent of cases of diabetes and 30 percent of cardiovascular diseases have to do with lack of physical activity.
Our body is structured to generate movement from the energy we take from food, today at least 60% of the world population does not perform the physical activity necessary to obtain health benefits. Therefore, from BODYTECH we want to raise awareness about this phenomenon, which should be viewed from a population, multisectoral, multidisciplinary and cultural perspective.
In commemoration of the Day of Physical Activity (April 6) and World Health Day (April 7), our sports physicians recommend physical activity and nutrition by age range as follows:
● 4 to 14 years
Physical activity: should accumulate a minimum of 60 minutes a day of physical activity of moderate or vigorous intensity, mostly aerobic. The recommendation is to do exercises that work muscles and bones three times a week; they can be games, sports, recreational activities, physical education or exercises programmed in the school, family and community context.
Food: it is essential to have a diet based on proteins, as they are essential for the formation of muscles and bones. Consume three meals and two nutritious snacks a day. Limit foods with high sugar and fat content and make sure you get the right amount of fruits, vegetables, red meats, and dairy products every day.
● 15 to 29 years old
Physical activity: it is advisable to accumulate a minimum of 150 minutes per week of moderate-intensity aerobic activity or 75 minutes of high intensity. It is recommended to practice it in sessions of a minimum of 10 minutes. Activities to strengthen large muscle groups should be performed twice or more per week. The physical exercise consists of recreational or leisure activities, travel (walking or cycling), occupational activities, domestic chores, games, sports or prescribed exercises.
Food: in this age range should be consumed lipids or fats, carbohydrates (present in potatoes, cereals, legumes, among others), fiber and water.
● 30 to 49 years old
Physical activity: the physical activity must be aerobic. Adults with reduced mobility can perform three or more days a week, physical activities to improve their balance and prevent falls. It is also advisable to perform work to strengthen large muscle groups at least two days a week, and if these recommendations cannot be met due to the state of health, it is recommended that you remain physically active to the extent allowed by your state…
Food: increase the consumption of vegetables, eat at least five servings of fruit, a portion of unsaturated fat per day, legumes three times a week, consume the adequate amount of fiber and water per day, includes 2 to 3 servings of dairy products. day.
● 50 and up
Physical activity: all older adults must link diet with physical activity to maintain a healthy weight and compensate for the muscle loss that occurs with aging. Brisk walking, swimming or riding a bike is enough to help the heart. In order to develop the strength of the muscles and bone strength, and work with weights or bands of resistance comes very well.
Food: consume antioxidants, calcium, vitamin B, fiber, zinc, drink water, avoid high salt and fat intake.