1&1 provides the perfect web hosting service for experienced users that don't need a lot of guidance from support staff. Its robust options come at a great price, and boast plenty of helpful features – although its customer support team does leave a bit to be desired.
1&1 Hosting Review Summary
As the largest web hosting service in Europe, 1&1 has certainly made a name for itself in the market. Between its 30 years of industry experience and undeniably competitive prices, 1&1 is one of the most reputable web hosting services available today, particularly for experts who want all the bells and whistles of a high-functioning website.
1&1 is also ideal for experts because, unfortunately, its customer support is far from stellar. It provides few options for solving problems, and its wait times can become a bit frustrating. However, if you're confident in your ability to manage web hosting problems on your own, 1&1 is more than a good choice – it's a steal for the money.
To get a better idea of what 1&1 hosting can offer you or your company, take a look at the price plans below. Also, don't forget to get a personalized quote, so you know exactly how much 1&1 will cost you.
Which 1&1 Hosting Plan Is Best?
There's a lot to consider when it comes to hosting your website online, and when picking a plan from a reputable provider like 1&1.
The most important factor to consider is what type of hosting plan you're going to get set up with. 1&1 offers four different plans, which each have their own set of benefits and downfalls.
Shared hosting, for example, is the most affordable option. This type means your site will be hosted on a server that is shared with other companies, which can lead to lagging and outages, depending on how much bandwidth is used by you or your server mates. Dedicated hosting, on the other hand, gives you access to a server all of your own. This gives you unparalleled control of your hosting experience, but costs considerably more. VPS hosting is a pleasant middle ground between the two – you'll still be sharing a server, but you'll have your own "section," so you won't be as affected by external forces. WordPress hosting, meanwhile, is fairly self-explanatory. This type of hosting will allow you to host a WordPress site, giving you access to an easy to use site builder in the process.
Yes, that was a lot of confusing information, so here's a simple breakdown of when – and why – you should use each type of hosting:
Shared Hosting – most affordable option, great for individuals and small companies looking for basic solution
VPS Hosting – not too cheap, not too expensive; perfect for middle-tier companies looking for a scalable option
Dedicated Hosting – most expensive option, exclusively for large companies with heavy-duty website aspirations
WordPress Hosting – best for any sized company that needs the guidance of a simple website builder
1&1 Hosting Costs
Because web hosting services like 1&1 provide so many different options for users, the prices of their catalog of plans can vary dramatically. Costs are affected by everything from the number of features available to the data you need to run your site. Fortunately, Tech.co provides a number of helpful discounts that can make each plan a little bit more affordable, so you can spend your budget elsewhere.
Before taking a look at how each type of hosting can help your company, take a look at the specific pricing options for each of the 1&1 plans available on its website:
Scroll horizontally to view full table on mobile devices
1&1 Shared Hosting
If you're looking for a simple, affordable solution to your web hosting needs, shared hosting is the way to go. You'll be able to finally establish your company's online presence, without breaking the bank. If all you need is a basic, informative website, shared hosting plans are really all you need to get yourself seen.
For a better idea of exactly what 1&1 offers in terms of shared hosting plans, take a look at the comprehensive breakdown below of features, support options, and price.
Scroll horizontally to view full table on mobile devices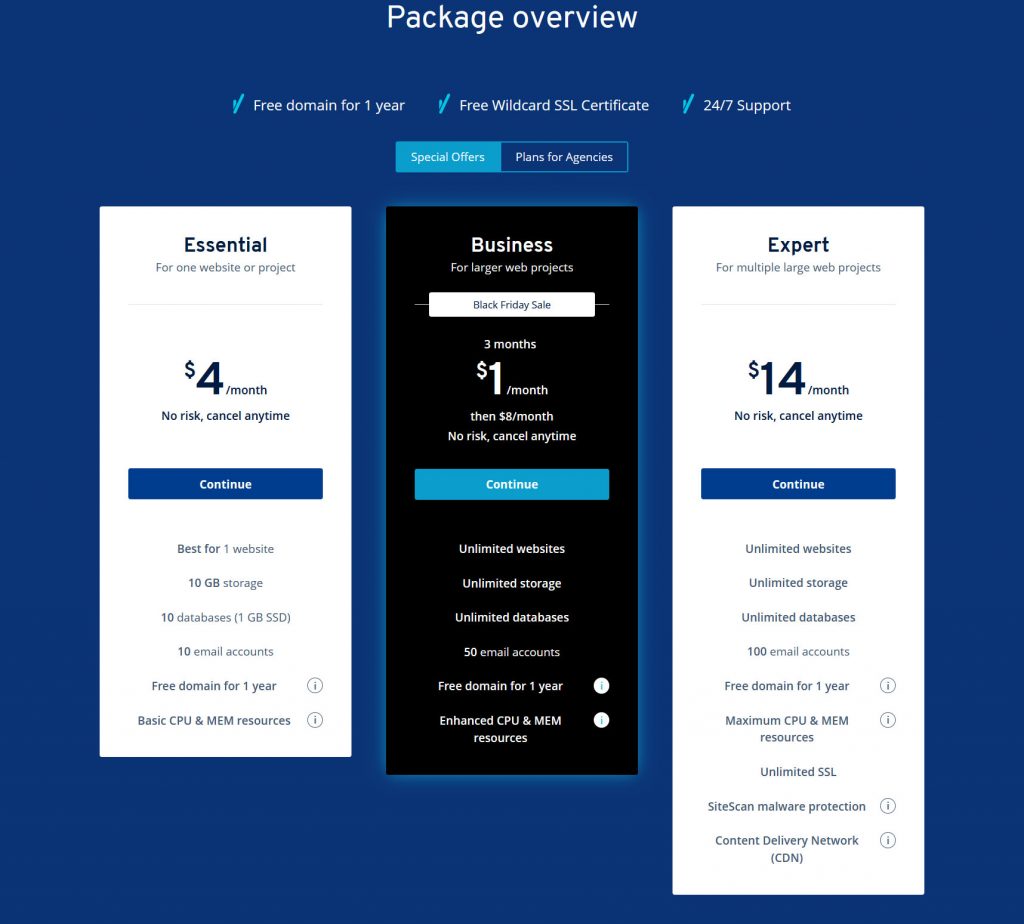 1&1 VPS Hosting
VPS hosting is aimed at middle-tier businesses looking for more than a simple solution, but that also want to save a bit of money. With 1&1 hosting plans specifically, you'll be able to easily scale as your business grows, and attract more traffic as necessary.
Check out some of the more pertinent details about VPS hosting plans with 1&1, so you can get all the information you need to make a knowledgeable decision.
Scroll horizontally to view full table on mobile devices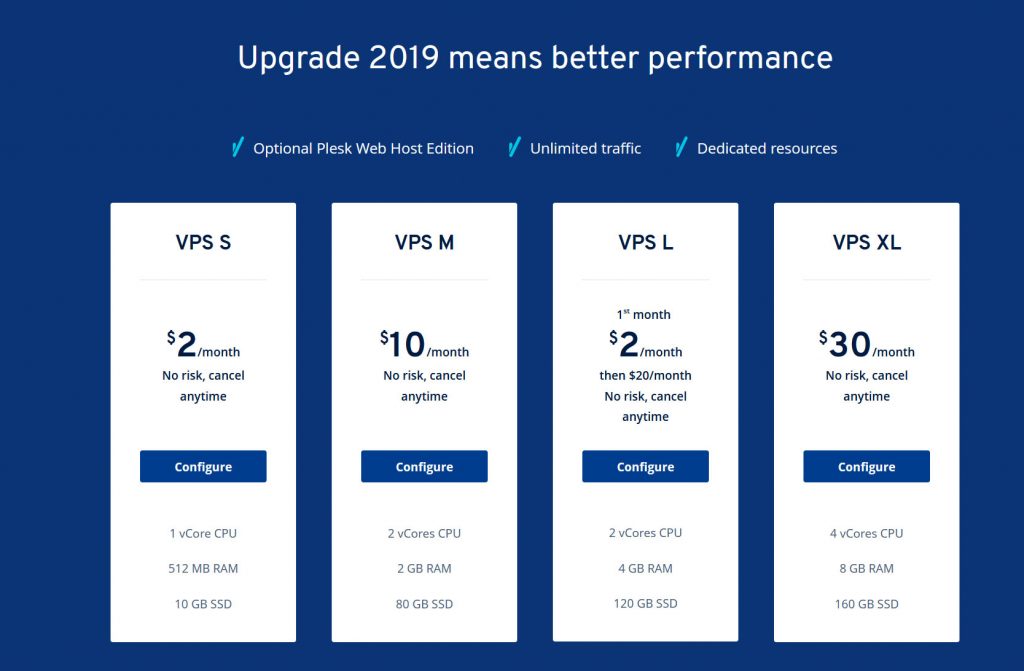 1&1 Dedicated Hosting
Big companies need hosting services too, and dedicated hosting provides the reliable, heavy-duty solution required for these larger projects. With 1&1, you'll be granted plenty of bandwidth on your own server, giving you complete control over how and where your website is hosted. Yes, the price is a bit higher, but it's worth it to have a guaranteed hosting option that always works.
Take a look at a few of the price points and added features for dedicated hosting plans to understand exactly how these high-tier solutions can improve your online presence.
Scroll horizontally to view full table on mobile devices
1&1 WordPress Hosting
Having a web hosting service doesn't necessarily mean you have a website builder to get you started. Fortunately, with 1&1 WordPress hosting, you'll be able to get your easily built website hosted with an equally simple hosting service. If you're a smaller company looking to get started quickly and easily, WordPress hosting is the way to do it.
Each of the three 1&1 WordPress hosting tiers include:
Free domain
1-5 WordPress sites
10-500 email accounts
Generous storage options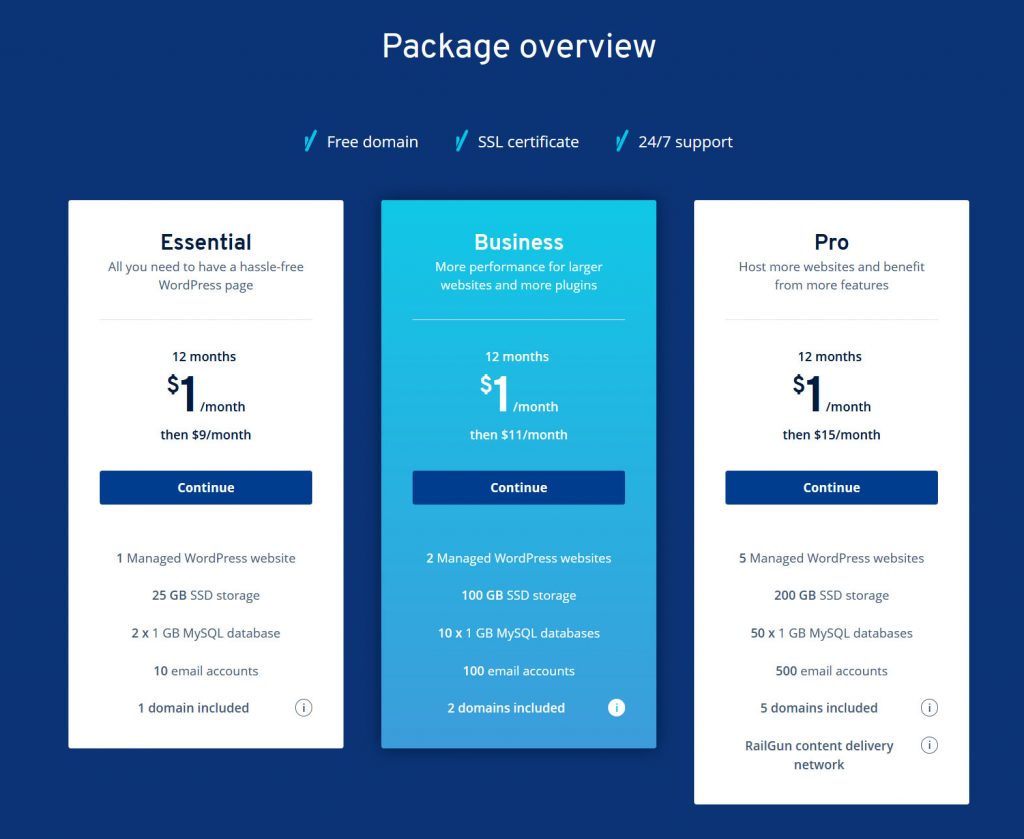 Verdict – Should You Use 1&1 Hosting?
If you're confident in your ability to navigate the ins and outs of a web hosting service without a lot of help from support staff, 1&1 is an absolute must.
Even considering their low customer support scores, 1&1 provides users with all the web hosting necessities, as well as a wide range of added features and generous storage options. You'll be able to get your website up affordably and easily, as long as you've got a bit of expertise yourself. In short, if you know what you're doing, 1&1 is the provider to do it with.